USA- Peruvian Music Exchange
Educational Artist in Residence Program & Performance Programs in the USA
Return again in spring 2012
Last updated: 3/11

Chimu Inka's Blog Page
2008 Images

Mountain Spirit Institute sponsors: Chimu Inka - First Successful U.S. Program

Mountain Spirit Institute welcomed Cusco musicians Guillermo Seminario, Augusto Taype, and Mario Montalvo to the USA to teach and perform for numerous venues for the Fall of 2008. They are three anchors of "A talented, passionate and dynamic band, with great personalities." says Randy Richards, Executive Director. Their P-3 Performer's permit and visas for all three had been approved as of April 2008, so then we began the exciting process of putting this program into action.

All are natives of Peru. They will performed, and offered educational programs during this first visit in the U.S. under special invitation of Mountain Spirit Institute. All are professional musicians and gifted teachers. An integral part of their teachings and performances is the spiritual and meditative aspect of traditional Andean folklore music, and Guillermo Seminario has worked extensively with various educational organizations in this respect.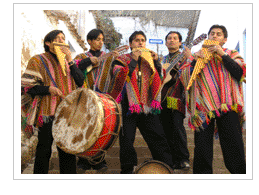 Guillermo is the musical director of the Cusco 5-piece band "Chimu's", which has three CD's ( Q'ori Pank'arita & Magical Melodies ) and a local following to its credit. The band has been together for over 6 years and continues to play on a daily basis in the restaurants and private functions in downtown Cusco.
Guillermo is also the coordinator for the Cusco Music Exchange sponsored by Mountain Spirit Institute in Cusco, where interested "gringo musicians", both professional and amateur, can learn about Peruvian instruments, rhythms, history and perform in Cusco with their fellow "Chimu's" musicians and teachers.

Songwriter Click Horning says of Chimu's, "After seeing a video of Chimu's playing in Cusco, I thought, these guys are good enough for NPR's Prairie Home Companion. They're technically, very good musicians, and have a wonderful style."
DETAILS:

Educational Programs for K-12 Schools and Colleges in the USA
Chimu's Band members teach about Peruvian Music
Introduction to Peruvian Instruments
History & importance of Peruvian Folklore Music
Some Hands-on Instruction on making certain Peruvian Instruments such as Flutes and Zamponas
Some Instruction on playing Zamponas, Charangos, Peruvian Flutes and other native instruments.
Mountain Spirit Institute Peruvian Music Intensive Weekend with Chimu Inka
Spend a week-end in 2011 with Cusco musicians Guillermo, Augusto, Mario and Miquel learning many aspects of Peruvian culture, music and history in a beautiful setting.
Location: Sunapee, NH: lakeside home will be the base and classroom for this weekend workshop.
Spring 2012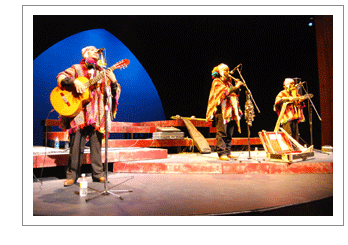 Performances in the USA

Chimu Inka in northern New England and are available for booking, please contact the MSI office for performance info.
Chimu's will be playing and teaching at various venues in Utah & NH/VT.
The 2009 Summer Concert Series plus regional opera houses, university stages and town bandstands and universities.
Expect typical Peruvian Folklore Andes music with zampoňa, flute, charango, guitar and drum, and vocals.
Music Therapy
Chimu's will also be performing in a few nursing homes. The soothing and spiritual aspects of Andean flutes and instruments have incredible healing qualities for people of all ages, especially the infirmed.

Return to top of page


A few images from Chimu Inka's First USA 2008 Exchange Program
One of Chimu Inka's earlier engagements was a family concert at the Richards Free Library on "58 North Main" in Newport.
The performance was held in the recently restored ballroom on the third floor. Local children, families and individuals attended the afternoon performance.
The band performed and spoke throughout NH, VT and a few engagements in MA.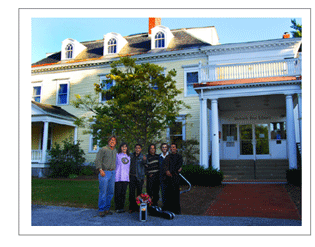 Shown outside Richards Free Library, are left to right, MSI board members Randy Richards, Betsy Sofish, Guillermo Seminario, Wachi Taype, Ms. Sofish's Mother, Thelma, and Mario Montalvo. The event was a donation on part of MSI and Chimu Inka for the library and the people of Newport.
Board members were a critical link in the success of this program. Thanks to Betsy, and her mom, Chimu Inka had an interim place to lay their heads, got to their engagements, and had warm meals. Many thanks goes to both Betsy and her mom.
MSI Board member Cindy Heath, Wachi Taype, and Mario Montalvo relax before having some homecooked Peruvian food. Board members and the band were fortunate to be invited by fellow Peruvian, Coralia, at her and her husband's home in Lebanon for a home cooked traditional Peruvian dinner. The band loved it! Here, the three are relaxing after a concert at the Methodist Church.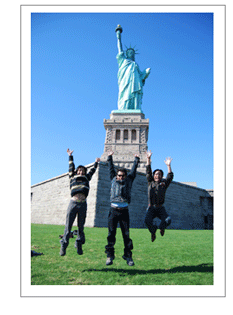 The band was excited about the possiblity of going to New York City. When R. Richards suggested the trip, all three jumped at the chance, literally. Seen here at the Statue of Liberty, the three were having a great time experiencing lots of foods and parts of the city.
Thanks to a generous donation by David Carroll, MSI and R. Richards, the crew was able to stay in the city for two nights and see the sites.

The crew saw the U.N, and Empire State Building, as well as ground zero, the subways, Grand Central Station, Times Square and... more than a few electronics, and music stores.
The weather was excellent for their trip, especially for the boat ride to Ellis Island and the statue.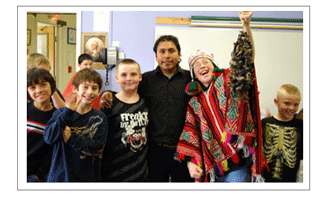 Guillermo Seminario is picture here with some school children in a Bennington, VT classroom. The band made an enourmous impression on youngsters. Many were excited to see the Peruvians in their school and actively thanked them at the end of the events.
One student is seen holding up the "cha cha" or some sheep's toenails, which serve as a percussion instrument. He also is donning a Chuyu hat and poncho normally worn by Shamans of the Quero nation. These chuyus and ponchos have been used with permission from the Shamans. Guillmermo and Wachi went on a four day trek into the high and remote mountains to the Quero people to ask of the Shamans if they could wear the traditional clothing.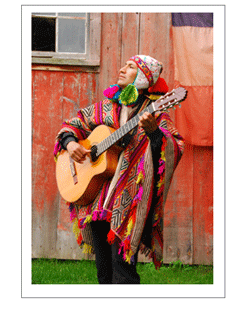 Chimu Inka had a working vacation in East Calais Vermont at Randy's long time friend Cody Michaels' beautiful house sitting location at an old farm in Northern Vermont. Although the audience wasn't huge, the setting was ideal, set in an old barn. The meal and company following the concert, not to mention the views, made the whole drive worthwhile. Pictured here is Mario Montalvo, singer/guitar player extrodanaire as the subject of a photographer's eye outside the barn, during one of their breaks. This image portrays a lot of Mario's demeanor. He is a wonderful statesman for his country. Yes, the flag is French. The owners where Cody housesits spend a lot of time in France. But the barn in full-blooded Vermonta.
Mario is a master who plays with his heart and soul. We will miss him til the next time he comes to the USA..or until you come with us on a Mountain Spirit program to Peru and visit him in Cusco!
Chimu Inka USA Tour 2011 Members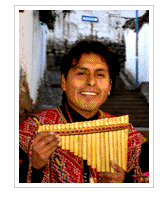 Guillermo Seminario is the musical director "Chimu's", and coordinates the Cusco Music Exchange Program for MSI. He is a talented performer, having played various instruments since an early age. His interest in music led him to particpate in five different cultural/educational organizations for a number of years. Guilllermo also makes professional grade instruments such as Zamponas, pan pipes, flutes and charangos. He, and others, will be in the USA performing and teaching in the Fall of 2008. Guillermo states, "Just as we depend upon the sun, we can't exist without the strength, warmth and inspiration of music." Guillermo speaks Spanish and English.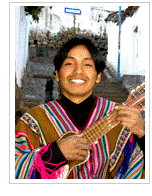 Agusto Taype, who also goes by Washington, hails from Julliaca, near the shores of Lake Titicaca. Before Chimu's he has performed with the folklore group Wayra Llacta, meaning "place of the wind". When Agusto traveled to Cusco for its famed Inti Raymi festival, there he met Guillermo and they became fast friends and musical partners forming the group Chimu's. Agusto also makes zamponas, flutes, weaves tapestries a bit, and even "a little bit of pottery."
Mario Montalvo calls Cusco his home. He has studied voice and guitar, charango, flute and zampona. He was previously part of the group KMT Unima and had been a choral director in various parishes in Cusco. He's been teaching guitar to students of various ages in Cusco for a number of years. He's been in Chimu's for two years and can belt it out like few others. His guitar work is solid and his attitude is wonderful. Mario and his wife are now parents of a new baby girl.
Booking, or for More Information: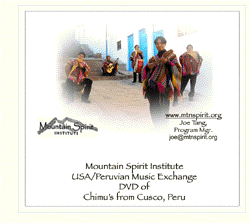 Our brilliant and free promotional DVD of Chimu's is available to interested venues. Please contact the MSI Office and we'll send one to you. Featured performance of William Tell Overture and Celtic tune.
For Information:
Randy Richards
Randy Richards, MSI Executive Director
randy@mtnspirit.org - 603.763.2668


PRESS KIT:
Press Release
Chimu's Image
Chimu's Poster

Day

2008 Date

Chimu's Fall 2008 SCHEDULE (Stay tuned for 2012)

See below this calendar for venues not yet confirmed

TU

Sept 9

Chimu's FLight from Lima>Manchester NH
WE

Sept 10

TH

Sept 11

Landgon Street Cafe
Montpelier, VT 8:PM

FR

Sept 12

Franconia, NH Gazebo 5:00- 8PM

SA

Sept 13

Flander's Stage, Sunapee Harbor
Sunapee, NH

SU

Sept 14

MO

Sept 15

TU

Sept 16

WE

Sept 17
3:30

Richards Free Library
Peruvian Folklore Family Concert
The Ballroom , 58 N. Main St., Newport, NH

TH

Sept 18

The Anchorage Restaurant
Sunapee, NH

FR

Sept 19

SA

Sept 20

Gusano's, Lebanon, NH 9pm-12 Midnight
410 Miracle Mile, Lebanon
6pm Setup
7:45 Dinner
Info: (603) 448-1408


SU

Sept 21

Sunapee SunFest
12:00PM
Mt. Sunapee

MO

Sept 22

TU

Sept 23

Keene State College
Keene, NH
9:30-10am Student Center Atrium
10:15-11:15 CDC performance
11:30-12n Student Center Atrium or Plaza

WE

Sept 24

Sunapee High School
School Assembly 1PM
Spanish Class Discussion - Break Down Equipment

TH

Sept 25

Lisbon School District, Lisbon, NH
10:am

FR

Sept 26

Bristol School k-12 School-wide assembly (Stephane)
9:15 Talk with Students
10:15: Spanish III
10:30 Prep
11:30 Assembly Class


Sunapee Community CoffeeHouse
Sunapee NH , 7pm
www.sunapeecoffeehouse.org

SA

Sept 27

Spirit of Change Holistic Expo,
11am: Executive room:Peruvian Folklore Music Workshop 50 minutes
4pm : Danforth Ballroom:Concert : 30 minutes
Sturbridge, MA

SU

Sept 28

Vermont House/Barn Concert, Private
1:PM Meet the Musicians/Snacks
2:PM Families and Kids Welcome
Northeast Kingdom VT

MO

Sept 29

Vermont Touristicas/Circuit City in W. Lebanon

TU

Sept 30

Sunapee High School
9-11am Music Class, Art Class: Instruments, Peruvian Art
1:55-2:45 6th Grade Music Calss: Instruments, Peruvian Art

WE

Oct 1

Lebanon Methodist Church:
Sanctuary or Fellowship Hall
18 School Street, 448-5478
5:30PM $10.00

TH

Oct 2

Kearsarge Regional High School
School-wide Assembly: 1:30-2:30PM

FR

Oct 3

Claremont Opera House Atrium
Dinner 5:pm
7:30
Claremont, NH

SA

Oct 4

The Mill, Bristol, NH
7PM
Tickets $10.00 TEL: 603-744-0405

SU

Oct 5

Bennington Center for Arts , 2:PM,
44 Gypsy Lane,
Bennington, VT
Tel: 802-442-7158
www.benningtoncenterforthearts.org
MO

Oct 6

Shaftbury and Woodford Schools
9:30 am - Shaftsbury,
11 am - North Bennington,
1 pm - Woodford

Depart for NYC in Afternoon

TU

Oct 7

NYC
WE

Oct 8

NYC,
Return to NH in PM
TH

Oct 9

Goshen School District
1pm

Gusano's
410 Miracle Mile, Lebanon
7pm
Info: (603) 448-1408
FR

Oct 10

Chapel Arts New England, 13 Glen Rd. Gorham NH
603-466-2129
4PM Free Intro to Peruvian Instruments and Music (Kids and Families Welcome)
7PM Show
SA

Oct 11

Colby Sawyer College, New London
11:30-12:30 Traditional Folklore Music of the Andes
1:00 Workshop on the History of Andean Peruvian Folklore Music/Instruments
2:00- 2:30+/-: Traditional Folklore Music of the Andes
3:30-4pm+/-: Traditional Folklore Music of the Andes


SU

Oct 12

Warner Fall Foliage Festival 12:PM/Noon
Warner, NH

Potluck for Chimu , 5:PM
All volunteers and friends of Chimu Inka invited, please RSVP at 763-2668


MO

Oct 13

Woodstock High School
10:30 Setup
11:30 Spanish Class
1:15 Band Demo Instruments
2:00 Performance (40 min)
TU

Oct 14

Return to Peru from Boston
Return to top of page

Help bring Chimu Inka to the USA!
Chimu's needs your financial help in defraying travel costs in bringing them to the USA for their 2011 visit. It's important these talented musicians travel and share their culture. As a result of your gift, youngsters and students of different ages will have the opportunity to listen and learn from these gifted teachers and musicians.


An Opportunity for Businesses to support this program.

If you're interested in making a tax-deductable restricted donation to contribute to Chimu's travel expenses such as air and ground transport, contact MSI.
Credit cards also accepted by calling the MSI office.
Sponsorship Cover Letter
Sponsorship Proposal