Quarterly Newsletter of The Mountain Spirit Institute
Published Quarterly
April/May/June Online Edition
April 23rd, 2007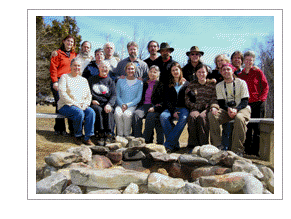 The Art of Living with Theo Paredes Part III a fun success!
Eighteen people came from different parts of the country the last weekend in March 2007 for the third of a four-part series entitled the Art of Living with Senior Theo Paredes, Ph.D. While earlier sessions were broader in scope, this session focused more on a particular type of ceremony and healings done by don Theo. Most of the group has been through all three together, so are starting to build strong bonds. The program saw sunny as well as rainy weather. Theo was assisted by Craig Hartel and Anne Wells.

Two participants from the Art of Living Program, front of the Blue Water Farm, where the series is being held.

Solos and Wilderness Experience Programs planned for Southern Utah/Colorado
MSI Vice President Bob Stremba, Randy Richards and Chris Mulcahy are putting their heads together to extend the Kearsarge Wilderness Experience concept, the Solo and a new wilderness survival program to the reaches of southern Utah and Colorado. Chris, Bob and Randy all have Plymouth State University's Adventure Education undergraduate program in common, where Chris was a student, Bob the department chair, and Randy an adjunct faculty member. Bob has since moved to head a similar program at Fort Lewis College, Colorado, and Randy will be doing more work in the Park City, Uinta/Wasatch Range area, where he taught skiing and studied at the U of U.

The summer will consist of securing permits, scoping out particular areas that are previously familiar to them and program planning. Keep an eye out for emerging webpages on this site.

Mountain Spirit's Bob Stremba, Ph.D, and Randy Richards to present at Integrative Holistic Health Conference, Salt Lake City
Randy Richards, founder and Robert Stremba, Ph.D., Vice President of Mountain Spirit Institute, Sunapee, and Program coordinator of Adventure Education, Fort Lewis College, Durango Colorado, will be presenting on "Nature Deficit Disorder and the Importance of Wilderness" at the fourth annual Integrative Health Conference in Salt Lake City, Utah on May 10 & 11th, 2007

The conference focuses on professional healthcare providers who are integrating and pushing the envelope of holistic practices in their work. Presenters from a wide variety of fields will speak . The event's title is "New Paradigms for Healing: The Science of Integrative Health"

The event has three main themes:
- Body, Mind, Spirit Modalities: Science and Experience
- New Understandings of the Biology of Wellbeing
- Healing the Individual, Family, Community, and Environment

The event's information sheet states,"The Integrative Health Network (IHN, a 501(c)(3) public charity) is the major organizer of the Conference, in partnership with the Department of Health Promotion and Education in the College of Health and the College of Nursing at the University of Utah; the College of Nursing at Brigham Young University; the Dumke College of Health Professions at Weber State University; the Department of Health, Physical Education, and Recreation at Utah State University; and the Department of Nursing at Utah Valley State College.

IHN encompasses several philosophies of the integrative process: (1) evidence-based, complementary alternative health practices integrated with conventional medical care; (2) care for physical, mental, emotional, and spiritual wellbeing of patients and providers; and (3) active awareness that the health and wellbeing in the individual is intimately connected with the health and wellbeing of the family, the community, and the environment.

Presentations of conventional and complementary health care and education practices will enable professionals from a diversity of health disciplines to interact and network cooperatively about the optimal healing systems for the future. It is our goal to increasingly involve the general public and community/environment wellbeing in this educational and networking process.
Sunapee, New Hampshire High School/Outward Bound Scholarship Program
MSI initiative in its successful third year.
Lucie Reidy a sophomore at Sunapee High School has been accepted as a Mountain Spirit Institute/Outward Bound scholarship recipient. The regional portion of the scholarship funds were provided by Sugar River Savings Bank of Newport NH. Miss Reidy will be responsible for the application fee and transportation to North Carolina, where the program will be conducted. Outward Bound has agreed to pick up the remainder of the scholarship expenses.

The Sunapee program is in its third year. Hanna Baade and Ben Baily of Sunapee were the first two Sunapee students to take part in the program, and brother Brian Baily participated in a Colorado program in 2006. Baade took a sea kayaking course and Ben Baily participated in a seamanship/rock climbing combination course, both in Maine.

Randy Richards had the cooperation of Outward Bound's Charlie Reade in making Sunapee High School a "Partnership School" in northern New England, of which there are only a handful. Richards had previously been a recruiter for Outward Bound and was familiar with setting up the program. He wanted to make sure he included his hometown, Sunapee in the list before he moved on to start his own organization Mountain Spirit. Many thanks goes to Sugar River Savings Bank, and to Jean Circosta of Sunapee High School for making this possible.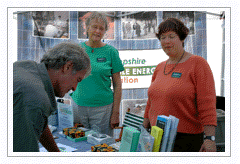 Gearing up For Sunapee SunFest 2007
Mountain Spirit Institute has set September 15th, 2007 as date for second annual Sunapee SunFest. Last year's event had 650 people attending on a sunny day in September. Weather pending, MSI hopes to double that amount, through word of mouth and advertising. The event is a fundraiser for MSI's Annual Fund. Live music, vendors in the healing, holistic lifestyle and sustainable living fields will be present to offer information and products on good living. There will many speakers and activities, and short a DVD of interviews with Sunapee SunFest speakers will be again produced and offered to local public access television stations in the region to promote the non-profit's fundraiser. Volunteers are needed for organizing prior to the day of the event and during.
Fundraising/Marketing: Doug Kibbie joins in on MSI's efforts
Doug Kibbie, of Thetford Vermont, has recently joined the Mountain Spirit Institute team on April 18th, 2007, and will be working with Executive Director Randy Richards on a fundraising program and marketing program. Doug brings a wealth of business and sales experience from the corporate world to MSI's fledgling non-profit status. He has also led experiential wilderness programs in the Rocky Mountains for a number of years.

The plan is to bring the company from phase one, which was the implementation of the business structure,(insurance, charters, nonprofit status) and launch it through phase two, infusing the non-profit corporation with funds for marketing, general operating, grant writing and salaries.

At a recent meeting, the two discussed the unique nature or Mountain Spirit's mission, and in turn, a strategy on how to reach the specialized market that is interested in both experiential outdoor education and spiritual elements at its core, or "espiriential education" as Richards calls it. Richards describes MSI as a cross between Outward Bound and The Omega Institute, where "the earth is our campus". He had been advised by the founders of Omega "that buying a facility to start a center was not necessary". In fact being a land owner might cramp and dictate the growth and direction of the business. Better, suggested the founders, to "go mobile", something which Richards was familiar with at Outward Bound. There, students often never see the basecamp, rather fly in to the regional airport and are bussed in to the local trailhead.

Their marketing campaign will get the word out to potential students about the unique one-of-a-kind nature of Mountain Spirit's programs. The two plan on "populating" the programs already developed and presented on the website.
MSI Thanks to the Nilsens for constructing our new database
The Nilsens of Sunapee, New Hampshire, have created a very detailed database for MSI. It involved countless hours of tweaking after having discussed the needs, goals and nature of Mountain Spirit Institute's programs and organization.

Both Nilsens have worked extensively as computer database specialists and are now retired in the Sunapee Area. They both worked on the database producing a great result that will aid in MSI's keeping track of incoming data on everything from US Forest Service wilderness user days, volunteer hours to program participant information.

Both Nilsens devote a substantial amount of time to various community projects in the area. Our community if fortunate to have them here. MSI expresses our gratitude for their valuable and selfless assistance.
MSI Formally Establishes Scholarship Fund
Mountain Spirit Institute has set up an account solely for scholarships at Lake Sunapee Bank. This will be used for Outward Bound and Mountain Spirit participants who show a financial need. To date the account has $550.00, of which 500.00 has been earmarked for the 2007 Sunapee High School/Outward Bound program.
MSI Focuses on Sustainability Education
If you haven't noticed, the weather is getting a bit strange lately. It's becoming obvious to the board of MSI that we are in the midst of major global climate change. Speaker Richard Heinberg, author of The Party's Over, presented a stunning, disturbing and enlightening lecture one night a few years ago at Plymouth State University. Board members Bob Stremba and Randy Richards came out of the event with a new conviction to change the status quo. Rather than simply offering experiential environmental education , MSI had to take a more proactive role in sustainability based education. After a few discussions, it became clear there may not be "outdoor adventure education" unless we get our act together.

Another noted author stated in a film about peak oil, "The days of the three-thousand-mile Caesar salad are coming to an end." He added, "The main solution I see is go local. I'm an author, I need to see what I can do locally that is of value to my community." MSI recommends the DVD "The End of Suburbia". Please see our resources page for more information.

The SunFest is one of MSI's attempt to educate people about the need to change our living patterns to more sustainable ways. MSI thanks Jane King, brainchild of the SunFest concept.

Vanessa Laurella, RN, PhD Joins MSI Board of Directors
Vanessa Laurella, RN, PhD, of Park City, Utah, comes to MSI with a wealth of experience in management and organizational development from the private, public and educational sector, and has served a variety of clinical, administrative and educational roles at the University of Utah College of Nursing for more than 20 years. She has a keen interest in spiritual and holistic living practices.

Vanessa is currently heading up a project, building from the ground up, two new multi-million dollar holistic health centers. One is in Midway, Utah, and the other in Mesquite, Utah. She will be aiding MSI in its development goals and plans.
Theo Paredes, PhD leads an MSI group in the RainForests of Peru
Don Theo Paredes, Ph.D. founder of the Poqen Kanchay Foundation, has invited ten individuals, through Mountain Spirit Institute, to participate in a powerful experience in Cusco, Machu Pichu and the Manu National Rainforest area in Peru. This 14-day program is will focuse on healing techniques and ceremony, in the rainforest of Peru. Paredes has studied Inca shamanism since the age of eleven, under local masters in his hometown of Cusco Peru. Mr. Paredes will be the host for this journey which will include the citadel of Machu Pichu, the ruins and village of Ollantaytambo, the Sacred Valley, Cusco, and a journey to the Parque Nacional del Manu with a stay at an historic ranch. Theo Paredes served in the Peruvian regional government of the Department of Cusco, and has received his doctorate in archeology and is currently sponsoring a dig near Machu Picchu.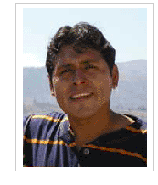 Intercultural Music Program in Cusco, Peru & USA
MSI has been meeting with Guillermo Seminario, music director of the Peruvian musical group "Chimu's". They have been developing two musical exchange learning programs, one in Cusco Peru, the other in the US. The former is aimed at professional and amateur musicians wanting to travel to Peru, learn to make pan pipes (Zamponas),flutes (Canes) and to play those and other instruments such as the Charango. Of course Latin rhythms, Peruvian music history, and other topics will be covered. Informal performances with Seminario's band, plus a final concert are planned.

Mr. Seminario plans to teach and perform in New Hampshire and Utah in the Fall of 2007 first with a smalll group then to return in 2008 with his full band for an artist in residence tour in New England and Utah.
About the Image of the Mountain
The mountain on the "header" or headline of this newsletter is Mt. Shuskan, in the North Cascades of Washington State, not far from Mt. Baker. Although it's not the most photographed mountain in the world, it may be the most published. R. Richards noticed a calendar hanging up in a small store near Torres Del Paine National Park, South America, which had Mt. Shuskan's image as it's yearlong picture at the top of the tearoffs. Keep an eye out during your travels, you too may find it in the most unusual places.

Most images on this website were taken by R. Richards. If you have any questions about where or when they were taken, please don't hesitate to drop us a line.
Published by R. Richards, Executive Director, Founder,
Mountain Spirit Institute

www.mtnspirit.org

Please address comments/corrections/questions to randy@mtnspirit.org


Bottom two images courtesy: Annette Vogel
Return to top of page