CREATING A SUSTAINABLE LIFESTYLE: June 10-12, 2011
Organic Gardening - Conscious Communication - Earth Friendly Living
DETAILS

Organic Gardening
The Nuts & Bolts of Organic Gardening with Henry Homeyer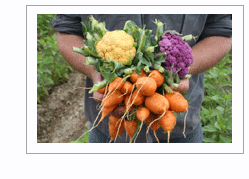 Overview: These 2 classes will provide hands-on, practical information about being successful and sustainable in your own landscape, whether growing vegetables, flowers, a lawn or trees.

The main emphasis will be on growing your own food, and learning how to store it for use all year round. Only organic techniques will be offered. The small class size will allow you to learn what exactly what you wish to – you will be asked to email Henry your interests prior to the workshops.
Gardening Workshop I:
The basics of organic gardening: what do plants need to grow well, and why is organic gardening better at meeting those needs than chemical gardening?
Tools: a discussion/demonstration of useful tools.
Soils: Bring a sample of your garden soil, and we will learn about it, and how to improve it. Learn how to judge drainage of your soil, and improve it if needed.
The basics of composting.
Water needs of plants and watering techniques.
Growing vegetables organically: some tips and tricks for growing common veggies.
Gardening Workshop II:
Planting techniques: Demonstrations of planting/transplanting techniques. Do you know how to plant a big tomato sideways to develop a bigger root system, for example? Learn how to make soil blocks for starting seeds.
Eating from the garden: Learn how to store, freeze and dehydrate foods so that you can eat your garden produce all year round.
Dealing with pests and diseases without chemicals. Learn why pesticides encourage more insects, rather than fewer. Simple remedies for common pests and diseases
Weed control: learn proper weeding techniques and how to mulch to suppress weeds.
Gardens / Lawns: Depending on interest, we can cover how to have a nice flower garden or a green lawn without using chemicals.
Personal & Environmental Sustainability with Jennifer White


In this interactive workshop we will explore the information, tools and motivation we need to live a deeply satisfying and purpose-filled life that is respectful of the larger social and environmental contexts in which we all live. We will start by asking ourselves what really matters most and what personal sustainability might look and feel like, and then broaden our discussion to envision the communities and future that will promote global environmental sustainability. Jen is the founder of Root Systems Institute, learn more att www.rootsystemsinstitute.net
Personal & Environmental Sustainability:
Mindfulness and purpose: A discussion about discovering our own truth and being present to fully enjoy who we are and what we have. We'll also explore the relationship between simplicity and the good life.
From personal integrity to a global ethic: Uncover the interplay between self-interest and altruism, and discover how our values and beliefs can drive our behavior…for better or worse.
What is sustainability and what does it have to do with me? We hear the "s-word" a lot these days, but what does it really mean and what does it mean to YOU?
The big bad four and other big bad stuff: A brief overview of the challenges we face and why a collective movement toward greater resilience, sustainability and true community is so important.
The daily practice of sustainability: Understand and reduce your own environmental impact, and find ways to live with greater intention and meaning. Learn practical steps for promoting personal wellbeing, social justice, economic stability and ecological balance as you make day-to-day decisions about food, energy use, consumption, and transportation.
Initiating global change from the inside out: Starting within ourselves and in our own communities, we discover how we can share these ideas with others, and "go big" by "going local."
Conscious Communication with Miles Sherts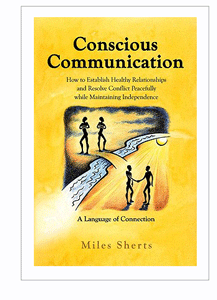 This workshop will teach an essential skill for maintaining clear and healthy relationships called Supportive Listening. You will learn how to listen to another person without judgment and offer support in the form of empathy. You will also learn skills for facilitating another person in solving their own problem. This is an experiential workshop and each skill will be explained, demonstrated, and practiced in a safe setting with active coaching.

Miles is the author of Conscious Communication
How to Establish Healthy Relationships and Resolve Conflict Peacefully while Maintaining Independence
Published in 2010 by Langdon St. Press - available at www.LanguageofConnection.com

To reserve a spot on this personal sustainability retreat, call us at 1-603-763-2668 and....